Sharing Economy Secret's review on Smartbnb
Intro
Hello readers and welcome to Sharingeconomysecrets.com! Today's article is going to be a review on one of the most important programs I use as an AirBnB Super Host. When I first started my AirBnB journey, I wanted to make sure I provided personalized experiences for each one of my guests. As I acquired many guests and reviews, I realized that doing this was unsustainable if I wanted to expand and scale my business. Given this situation, I found myself searching on the internet to find different ways to make the hosting process more efficient. I stumbled across OptimizeYourAirBnB and decided to purchase their Ebook. After reading the advice found in the book I implemented the various strategies in my own listings along with my own unique twist. Out of all the recommendations Danny provided I have identified one that has saved me countless hours and streamlined my AirBnB operations. I strongly believe Smartbnb was a crucial factor in me obtaining Airbnb Superhost status.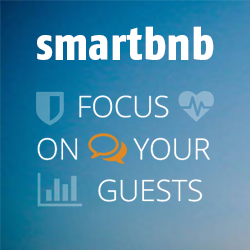 Choosing the right program for my Airbnb
I have tried a couple of pricing programs and other services catered for AirBnB hosts but today I am going to focus on one program in specific (I'll post reviews for other services I use in the coming weeks). I have recently started using the service SmartBnB and it has saved me countless hours per month! Before I used this automated messaging program I was manually sending each message to guests using the text replacement feature on my iPhone. With SmartBnB I am able to make sure each guest gets a confirmation message when they book the listing, check in instructions sent a few days before they check in, and also customer relationship management messages like day after checkups. One thing that might cause hosts to be hesitant to switch to this program is the usability of the features. I can attest that SmartBnB is extremely user friendly and someone like me who has absolutely zero programing skills can make custom "smart" messages that cater to each individual reservation! On top of that, Smartbnb offers a free 2 week trial so you can learn how to use it and make sure it is beneficial to your business before you invest any money. Note: if you don't want to learn how to set up this program, I can help you get your Airbnb listing automated for a small fee.
Smartbnb Feature review
When you first sign up for SmartBnB you may be a little overwhelmed by the information and features presented. I advise taking a moment and acquainting yourself with the menu found on the homepage. As soon as you connect your Airbnb account to the Smarbnb system you will see all of your future guests on a sleek dashboard. Here you can see the check-ins in the next 3 days, check-outs, and all of the future messages that have been prepared by Smartbnb. The queued message overview allows you to make sure there are no glitched messages that are sent and allows the opportunity to audit messages before they are actually transmitted to your guests. Another cool feature that Smartbnb has implemented is the "Heartbeat". This feature effectively sends a poke to your Airbnb calendar telling Airbnb that you are actively updating your listing. The reason why this feature was developed is because Airbnb's search algorithm considers the activity of your calendar when considering where to place your listing in customer search results. By showing Airbnb that the listing is constantly monitored, they will rank your listing higher in the search results which will earn you more exposure and money.
After you take a look at the dashboard go to the navigation tab on the left-hand side. Notice the different options that will navigate you to the desired feature on Smartbnb. Here you can take a look at the Inbox, Calendar, Listing, and all of the other features. In addition, near the bottom you have easy access to smartbnb support (I wish Airbnb could learn from Smartbnb and make their support easily accessible). To test the responsiveness of the support center I actually reached out to them via the live chat program (this program allows you to leave messages and saves a cookie on your computer to make sure you don't lose the message when you return) and I received a response from the CEO within a few hours! Talk about focus on customer satisfaction. After you've become familiar with navigating the dashboard we can move onto the specific features that Smartbnb offers.
Smartbnb's Custom Inbox
The first feature that we are going to go over is the Inbox feature. As most hosts know, the Airbnb website is bug ridden and not very user friendly. In smartbnb's inbox feature you can actually allow notifications be sent through your browser to notify you whenever you receive a new message. In addition, you can see all of the details that are pertinent to each conversation. The status of the reservation (how long until check-in/check-out, if it's an inquiry, and more) is clearly presented and you can click each conversation to get a detailed description of the entire reservation. What's better is you can also filter the conversations by your different listings or other more specific attributes. By not having to sift through unnecessary conversations you can effectively manage your time and help guests that need it.
Smartbnb's Calendar
The next feature that smartbnb provides is a calendar for each listing. You can easily export the calendars on a CSV should you have other short term vacation rental sites you need to syndicate data with. This feature allows you to use smartbnb as your daily one stop for Airbnb management. One feature that is in beta is the smart calendar. The smart calendar is very similar to the new Airbnb calendar, one really cool feature is the ability to add tasks for your teammates. By being able to automatically send messages to cleaning and management teams at specific times, you won't have to worry about logistical nightmares that arise from miscommunication. If a guest requests an early check in before their reservation, you can easily set a task for your cleaning team that will notify them to prioritize the listing that needs to be cleaned first. Features like this are what make smartbnb a no-brainer choice for hosts that want to run their listing as a business. By streamlining your operation while providing increased customer service you will see your listing gain traction as a top listing in your area.
Smartbnb's Bread and Butter: Automated Messenging
The next feature we are going to go over is the bread and butter of smartbnb: it's automated messaging system. As I stated earlier, many hosts have made an effort to send personalized messages to each guest. As your operation grows larger doing this becomes impractical. With smartbnb, you can automate the process while maintaining that personal touch for each guest. Smartbnb's system allows you to set customizable messages that scrape each reservation so you can send messages that contain the guest's name, travel dates, and more. When you first register, you will also have the option to use their default messages. While they are good enough to get information to your guest, I highly advise you add your own words and unique information to each message. You can edit each message and have full control over what is sent to your guests.
Smartbnb Questions
In the command center of Smartbnb there also is a feature called "Questions". This is a feature that is still getting optimized, but I have seen its potential. Here you can set messages as responses to certain customer inquiries. A few examples: guests asking for the wifi password, location from certain landmarks, and check out procedures. The question feature will detect certain preset keywords and if the conditions you set are met the program will send the preset message. If you choose to use this feature, I strongly advise you make sure the question flow is very simple. Don't include too many conditions – it would be very confusing for guests if you sent irrelevant or incorrect information. From my own experience simple question answers work very well. I personally use the question flow feature for wifi password, parking, and distance from landmarks but you can play around with the features and see what works for your listing. If you're a seasoned host you will probably see the huge potential this program has. The vast majority of the questions I receive as a host can be easily answered (and are usually found in the house manual/guidebook) and if you can avoid having to take the time to answer this type of question you can make the most out of your time.
Smartbnb Reservations
The next feature in the command center is an overview of your reservations. Here you can make adjustments to the frequency and contents of the automated messages. You can actually name each message to allow for easy identification, pause the listings, and customize each message depending on the particular listing. Another cool features that smartbnb has implemented is the ability to add multiple languages. When a guest sends you a message, smartbnb will identify that language and if you have a preset message for that language send them a customized message in their native language! Even if you aren't a native speaker you can add a note in your message that the message in their language is for their benefit so they can understand all of the information pertinent to the reservation, but when they meet you they can defer to a language that you prefer.  By offering clear messages that each guest can understand they will be more likely to be satisfied with their stay. Please remember that most Airbnb guests are still first-time users and if you are not very communicative with them they will feel uncomfortable going in to their reservation. By making sure they have all the information needed they will leave better reviews, which will cause your listing to get more exposure in Airbnb search results.
Airbnb Host's Godsend: Team Messaging
The next feature that we will be going over is the Team messaging system. If you're an Airbnb host with a few listings you know how hectic managing a cleaning team can be. Whether it be cleaner call offs or forgetting to clean a listing a customer's experience can be greatly negatively impacted should they arrive to a listing that hasn't been turned over. Using smartbnb's team feature you can send messages to your entire team (cleaning, concierge, managers) immediately upon a reservation is booked. By letting them know well in advance your team can plan their schedules to ensure your properties are ready for the next guests. When you are adding a teammate you can even include their phone number and label what their role in your organization is. If you have multiple cleaning teams you can customize each message to only send relevant information to the respective team members.
Automated guest reviews
The final feature in the command center is the review automation system. Here you are able to craft a preset review for each one of your guests. From my experience, I have noticed that if you post a review immediately after the reservation, your guests will always review just to see what you said about them. If you couple that with a message in your events section that asks for a 5 star review, I have seen increases in the amount of 5 star ratings you get. In a future article I will go over the steps that I take to make sure I receive the best ratings but in this article we will focus on the features of smartbnb. The reviews feature automatically defaults to a 5 star rating but if your guest did not deserve it you can manually adjust the review to accurately review the guest. Something to note: if you know the customer is not going to give you a good review, you can delay the review from sending out until the last moment. By taking advantage of the timing that the message is sent out at you can mitigate the risk of receiving a retaliatory review from unhappy guests (if they damaged the place or were kicked out).
Conclusion
That about wraps it up for the core features that Smartbnb offers. In addition to the messaging features smartbnb also offers a few other additional benefits. The first one that we are going to go over is the "market" research tool. If you click on market you will see all of your listings. By requesting a relevant market analysis of your specific listing you can obtain useful information like your position in the search, the average daily rate, and the range of prices for comparable listings in the area. While this feature is not as user friendly or detailed like AirDna or other specialized market research  tools, the market report will provide valuable data that you can use to optimize your Airbnb listing. Lastly, smartbnb offers a stealth mode for your listings. This feature will protect your listing from view until you deactivate it. If you're adjusting prices or adding photos, you may find this feature useful. If you're a host that doesn't want to host the maximum amount possible, you can also use stealth mode to ensure the listing is only seen when you are available to host.
What do I think Smartbnb can do better?
A few things that I believe Smartbnb can improve in are:
Tiered pricing for individual rooms vs whole house/apartment listings. Even though Smartbnb is very fairly priced, some hosts may find that it is unfair that a listing bringing in $1,000 per month is paying the same price as one bringing in $10,000.
Improving features like the market analysis tool. Even if hosts had to pay an additional fee, this would be a valuable asset where hosts can optimize their Airbnb listing in one place. The scraping code is very useful but it would be much better if additional constraints could be selected
Removing the spam emails that notify hosts of every message sent. If the host has multiple listing this quickly clogs up their inbox and causes them to miss important hosting emails.
Jerry's Smartbnb Review
In conclusion, the smartbnb tool is something that I believe each Airbnb host should at least try. They offer a free month's trial if you use my link. My final review: this product is amazing. The amount of time saved more than justifies its extremely affordable cost.  Ever since I implemented Smartbnb in my business, I have seen a drastic improvement in guest satisfaction and my overall listing ratings and have even attained super host status. The features are very user friendly and easy to learn. Once you have the custom messages set up you only have to do minimal updates to maintain consistency. The price they charge is very fair for the service they provide.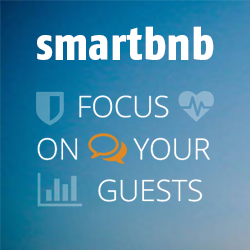 Thank you for reading my review on Airbnb tool Smartbnb. If you need help optimizing your listing, setting up programs like smartbnb, or would like private consulting, please don't hesitate to contact me here or at jerry@sharingeconomysecrets.com. I hope you have found this article useful and I wish you the best of luck in your Airbnb journey. Until next time!